[Meeting Minutes Index]
| | |
| --- | --- |
| Minutes | Wednesday Night, 6/9/04 |
For the general membership meeting held on the above date
At the following location:
Rob Sporrer's house
at Willowbrook Ranch
Santa Barbara
Opened meeting about: 8:15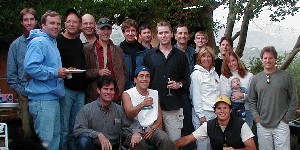 Welcome Guest & New Pilots

Nathan Caceres

P3 pilot from California. Colorful interactive character. Quick with the one liners, but perhaps a bit elusive about details in response to inquiries about who he is?

Kevin Howe

Lives at the ranch and has attended several meetings as a host? Recently started flying with Eagle Paragliding. Has 3 high flights. One each from The alternator, The Skyport, and Chiefs.

Attendance

Bill Bailey
Ron Faoro
Chris Grantham
Bob Hurlbett
Dan Keyser
Benson Lamb
Randall McCormick
Chris Paul
Brendan Pegg
Konner Pegg
Kristi Pegg
Tom Pipkin
Casey Rodgers
Rob Sporrer
Sharon Sweeney
Tom Truax
Minutes Ratified from last meeting held on: 4/14/04
Treasurer Report

Chris reported we have $732.83 in the bank. He has membership list if anyone is not certain if they are paid for the year.
Old Business

SCPA Discussion Forum

Casey and Chris Grantham fielded questions from the membership about our new PHP BB discussion forum. If anyone is having trouble with a feature, call or email Casey. He can answer questions from his cell phone.

Log in is necessary to activate some features like identifying new post
Recent activity will float old post to top of list
Many viewing preferences are user configurable. Not sure if there is a way to return to a "default viewing mode"

Casey will try to have fields for member list set up by next meeting

Email Address
2 phone numbers with a description of phone type

Casey and Chris will work on a utility to insert pictures into the post.

There was some discussion as to weather we want to link to pictures, or insert them directly into the post

East Beach:

Rob discussed the new east beach LZ
P4 only. We are on probation for another year, so let's avoid another Tim incident

Tim is still recovering from his injuries

Watch for Kite Boarders

Forrest Service Plan

Rob indicates all our launches seem to be included as an accepted activity in the pending Forrest Service Plan

Cieneguitas

SBSA is monitoring planning phase of proposal to build on LZ property. We recommend if, when, and what political action may be in our interest.

Dan Keyser:

Dan spoke about his recovery. He has some unpleasant dreams about the pending impact. 6 weeks are completely gone. He is rebuilding his relationships. May fly again. Has moved back home. Going back to work is difficult. Spoke with Tom King, advice; take time needed.

The Rat Race

Several pilots spoke about the competition. All thought it was a good event and want to return next year.
Moment of silence for Dixon
Next Meeting

Wednesday night, 8/11/04
Bob Hurlbett & Sara Webber's house
650 Juanita Ave.
Santa Barbara, CA 93109
Summary & Close about 9:10
Thanks to:
Rob Sporrer for his house and superb barbeque
Minutes by Tom Truax